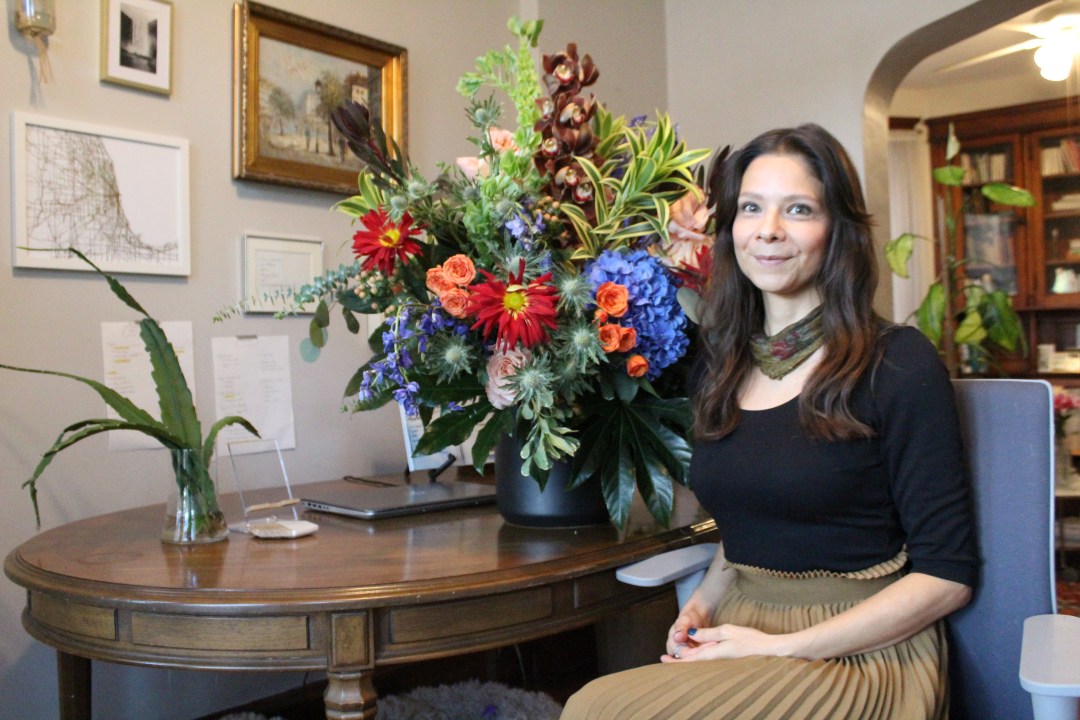 LINCOLN PARK — A Lincoln Park woman is spreading joy by making bouquets and leaving them in random places for people to take.
Jessica Housley started the project, With Love, Chicago, in 2017 to spread love and kindness during what felt like a divisive time.
"There was a lot going on in the world, and I noticed that there seemed to be more division, negativity and doom and gloom than I had ever experienced in my lifetime," Housley said. "It was a little scary, so I was brainstorming ways I could contribute to a positive change in the world."
Housley cut flowers from her mom's garden — something she normally does as a means of relaxation — put them in a vase and left them along Bissell Street in Lincoln Park with a note reading, "For you. If you find this, it's meant for you. With love, Chicago."
Housley made an Instagram account and left its information on the back of the card so whoever received the bouquet could reach out, she said.
"The woman who found the first bouquet tagged me on Instagram and said she just moved into her new place and the flowers felt like a 'welcome' into the neighborhood,'" Housley said. "I realized this works. This is a neighbor I don't know, but this had a positive effect just right around the block."
Since then, Housley and her team of helpers — friends, supporters and even former bouquet recipients — have made hundreds of flower arrangements and left them throughout Chicago for people to take, she said. Housley hopes its creating a "ripple effect" of positive change throughout the city.
The flowers come from all over, but most of the vases are reused jars that Housley collects or people donate to her cause, she said. Housley's favorites are olive and caper jars because they make "really cute vases."
In nicer weather, Housley leaves the bouquets outside in high-traffic areas such as parks, grocery stores, train stations and coffee shops.
"I really like placing them on outdoor tables when nobody's sitting there," Housley said. "So when they do sit down, they have to read the note."
Housley hopes the act of giving a stranger flowers will brighten their day and influence them to pass along the positive energy.
"Part of why I started doing this is because I noticed how small interactions with people could affect the trajectory of my day," Housley said. "I noticed that when I had a really sincere, positive and genuine interaction with someone, I'd be more positive with everybody I came in contact with. A small interaction like receiving flowers from a stranger can create a really powerful ripple effect."
Housley has received countless messages from people who have found her flowers, she said.
Some messages are a simple, "Thank you, and keep it going," Housley said. But many people will write to share that the bouquets had a large impact on their day.
One person recently wrote Housley to share that she found a bouquet and admired it for the moment, but passed the flowers onto a stranger because she didn't think her cats would let the flowers live.
"The person I gave it to got really teary," the person wrote. "It was her birthday, and her dad would always send her flowers on her birthday. Her dad had passed away within the last year, and this would have been the first year of not getting flowers from him."
Housley said it warms her heart to be able to lift people's days in such powerful ways.
"There's something about random kindness," Housley said. "It just helps and can be healing or inspiring. It can make people feel like they're not alone in the world."
People looking to support With Love, Chicago can reach out to Housley through its Instagram page.
Listen to "It's All Good: A Block Club Chicago Podcast":